An invitation into the author's garden: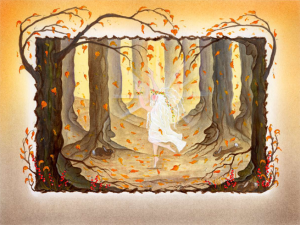 Gabriele de Ginant finds much of her inspiration and motivation to create stories & illustrations from the beauty found outside.  Join us as she gives us a tour into her private garden:
Good morning, and welcome to my beautiful garden… I love gardening, and spending time outside. I have the same philosophy for outdoors as indoors – music, flowers and candles!
These first pictures show the view when I just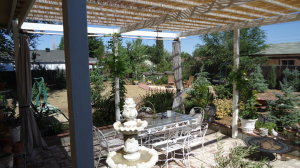 step outside my backdoor:
a large brick patio, a pergola with climbing wisteria and small fragrant pink roses.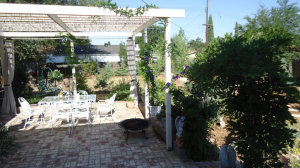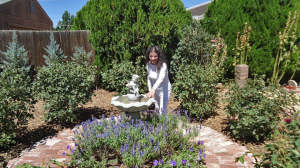 Then a brick walkway takes me to one of my two rose gardens, with the birdbath surrounded by violet petunias and salvias.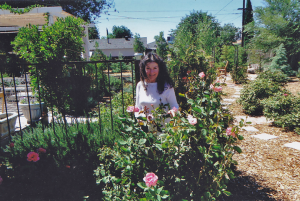 This is a photo taken in my second rose garden which surrounds my "Tuscan Patio." It is a golden flagstone area with yet another small fountain and an olive tree in a terra cotta pot.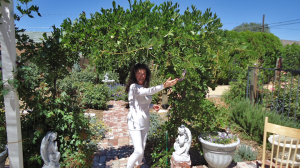 The arch in this picture I call "Angels' Gate." It is fully wrapped in wisteria that blooms throughout the summer, if I water it well. 
I also grow lots of rosemarie, lavender and yarrow. These plants are very "forgiving." They can take hot, dry and windy weather.
I keep many of my plants in large posts so I can take them under cover during the cold season. We get lots of beautiful snow up here. If you read my book "Rosabella" you know how much I love not only flowers, but also snow…
'til next time,
Gabrele