the Book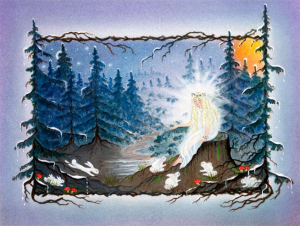 This is a delightful new fairytale with a charming old-world look, and a timeless message for all: Find, Follow and Live Your Dreams. Parents and grandparents will enjoy snuggling up with children and reading this beautiful, heirloom-quality, hardcover book.
Synopsis:
Rosabella is a shining, celestial Being, coming to us from the far-distant Stars. The four mighty Elements of the world, Earth, Water, Fire and Wind, take it upon themselves to create her form – one worthy of her radiant soul. They each bestow special gifts upon her, which she is to enjoy and share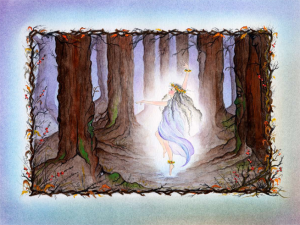 with the world. From her first waking moments she knows she has to be a dancer, and we follow her carefree, joyous dance of life through many seasons. However, there comes a time when she experiences an inner conflict, self-doubt, and even loss of purpose. She goes in search of a dream, any dream, asking all the beings of nature what she should do. From this search, she learns that it is in her own power to create and live her dream.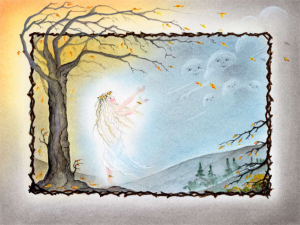 About the Author and Illustrator:
Gabriele Rose de Ginant has worked as an artist and designer of various media for over twenty years, drawing from her earlier independent studies in Germany, France and Italy. She holds a Bachelor of Science in Studio Arts and a Doctorate in Metaphysical Science. Miss de Ginant has been honored with numerous awards, and has served as a teacher and counselor, as well as being a loving mother. From a wooded studio in the mountains of Tehachapi, California, she continues to inspire and delight with her creative works, which echo the beauty and magic of the Europe in which she grew up. Rosabella is Miss de Ginant's third book.
Click here to purchase a Rosabella book on Amazon 
Reviews:
"Magical… and fun to read!"
– Ten-year-old Vanessa, who couldn't put the book down, and explained the whole story to her amazed father.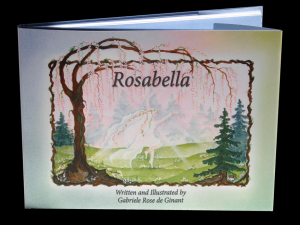 "Rosabella is children's literature at its finest… a Must Read."
– bookreview.com
"Rosabella is a delightful fantasy with a strong message, almost an allegory. The illustrations are whimsical to match the little sprite with a dream… The story and pictures are so interwoven that the reader cannot help but smile."
– Lauraine Snelling
"There is an ancient Russian proverb that states that creativity and reverence are the bread and salt of culture. If this be so, and I have no reason to doubt it, then Gabriele de Ginant presents us with a feast for the eye and sweetmeats for the soul."
– Thomas Steinbeck